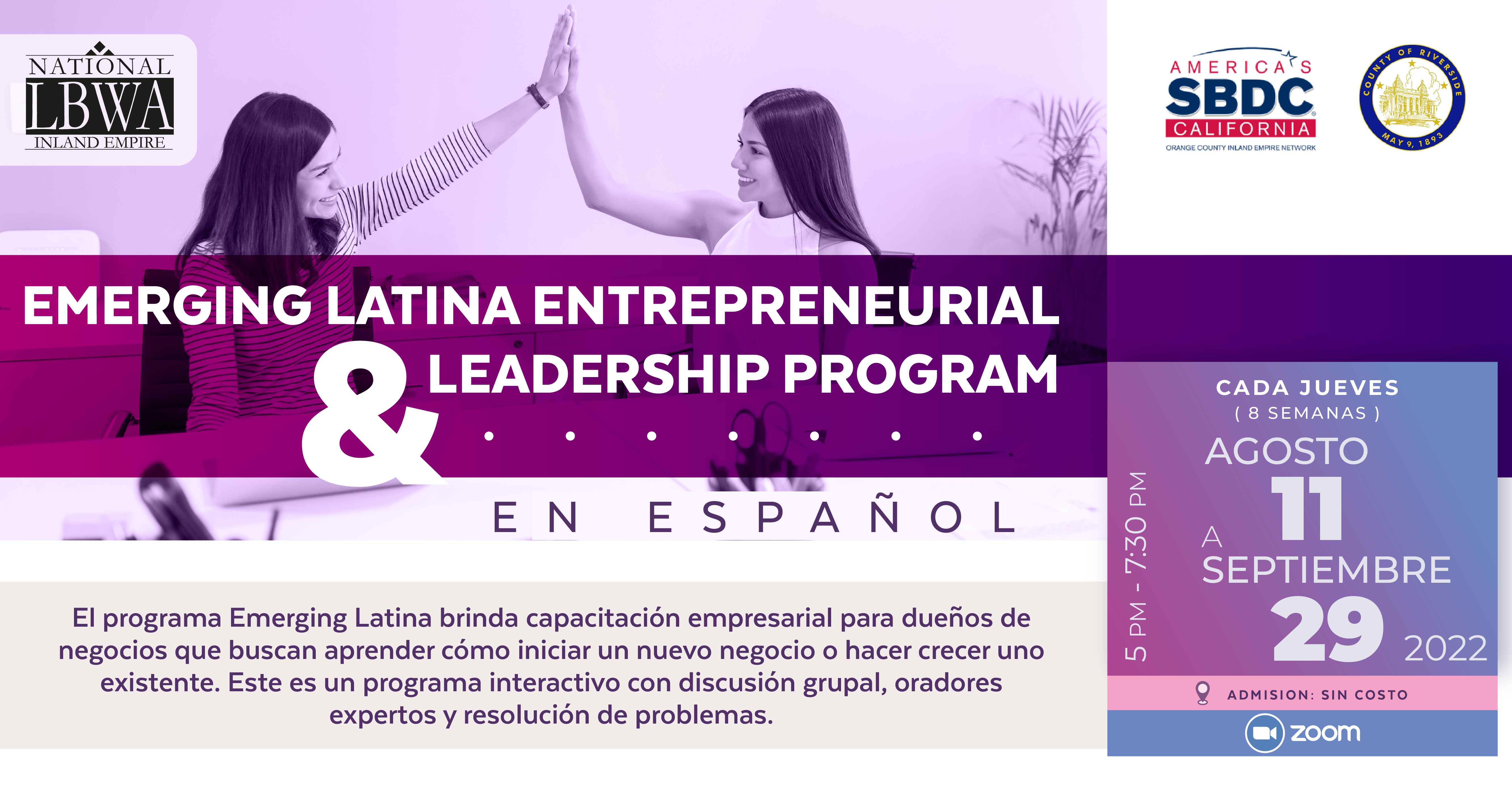 El programa Emerging Latina brinda capacitación empresarial para dueños de negocios que buscan aprender cómo iniciar un nuevo negocio o hacer crecer uno existente. Este es un programa interactivo con discusión grupal, oradores expertos y resolución de problemas.
El programa incluye los siguientes temas:
Identificar a la competencia y cómo diferenciarse 

Planificación estratégica de negocios

Estrategias de ventas y mercadeo

Licencia y permisos

Finanzas y contabilidad

Registros comerciales básicos

Liderazgo empresarial

Préstamos / fuentes de capital
Cada jueves (8 semanas) 
De 11 de Agosto al 29 de Septiembre
5pm – 7:30PM
Location: ZOOM
Admission: Sin Costo
Cupo limitado – 40
Este programa califica para la aplicación del programa "California Dream Fund". El Fondo del Sueño de California (California Dream Fund) es un programa estatal de una subvención de $35 millones de dólares que ayudará a sembrar el espíritu empresarial y la creación de pequeñas empresas apoyando a los emprendedores que comenzaron operaciones de negocios en el estado de California a partir del 1 de julio de 2019, o después de esta fecha. Los empresarios que cumplan con todos los criterios de elegibilidad y completen un programa de capacitación para el desarrollo de pequeñas empresas proporcionado por la red OCIE SBDC podrán calificar para tener la oportunidad de solicitar un subsidio único de hasta $10,000.
SPEAKERS
Ruth Lopez Novodor, NLBWA-IE Board President &  President at On Cue Consulting

Gabriela Aguilar, Owner, and Founder of Zen Tax & Financial Advisors

Silvia Luna,  Founder, and Principal Attorney, Luna Legal Firm

Francisca Reyes, University of California Riverside's Office of Technology Partnerships

Maria Molina Solano, NLBWA-IE Executive Director
Financiado en parte a través de un Acuerdo de Cooperación con la Administración de Pequeñas Empresas de EE. UU. La financiación no es un respaldo de ningún producto, opinión o servicio. Todos los programas se extienden al público de forma no discriminatoria.
Financiado en parte a través de una subvención con la Oficina de Negocios y Desarrollo Económico del Gobernador. Todas las opiniones, conclusiones y/o recomendaciones expresadas en este documento son de los autores y no reflejan necesariamente los puntos de vista de la Oficina de Desarrollo Comercial y Económico del Gobernador.